Some informations
---
ARTE TV - JOURNAL
Neapels Müllproblem noch immer ungelöst
7 Ottobre 201
0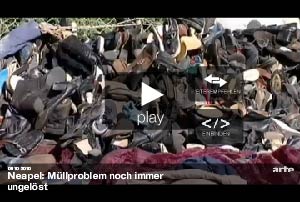 Click to view video

 

 

 

TSR, TV Switzerland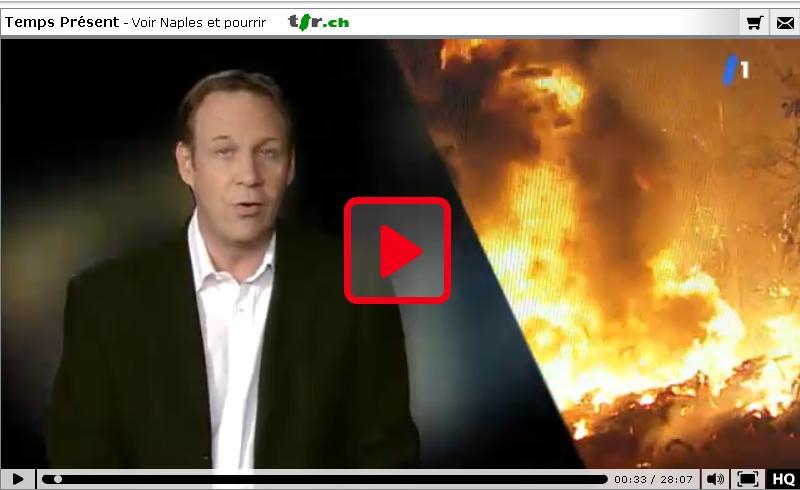 A "Temps Présent" su TSR in primo piano:
» la questione della Terra dei Fuochi (click)
TV España
En Portada, "La sombra de la Camorra"
by Pedro Soler al minuto 22' e 35"
Versione con sottotitoli, non disponibile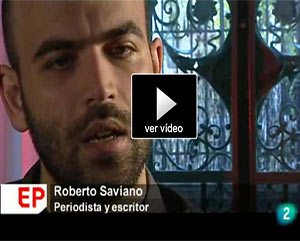 ---
> Video stories | In evidence <
Campania:
The "Olympic Games" of Fire
August 21st 2008
Thursday, Town of Giugliano (NA)
Video story in 3 episodes
Umpteenth Day of "War"
August 19th 2008
Tuesday, Town of Giugliano (NA)
Video story in 4 episodes
Campania a Region on Fire
August 06th 2008
Wednesday, Town of Giugliano (NA)
Video story in 3 episodes
---
> Video-Report | The appeals <
August 08th 2008
Friday, Town of Giugliano (NA)
loc. Complesso Auchan - 2st episode
August 08th 2008
Friday, Town of Giugliano (NA)
loc. Complesso Auchan - 1st episode
August 08th 2008
Friday, Town of Qualiano (NA)
Via Ripuaria - 2nd episode
---
> Video-Report | Some other records <
03 Giugno 2009
Acerra, Brusciano (NA)
Nube tossica mattutina.
Diossina gratis x tutti !! Segnalato da Sebastiano
02 Giugno 2009
Striscia la notizia ritorna
nella Terra dei Fuochi
Servizio di Luca Abete II parte
01 Giugno 2009
Striscia la notizia ritorna
nella Terra dei Fuochi
Servizio di Luca Abete I parte
01 Giugno 2009
Ponticelli quartiere est di Napoli
Discarica abusiva con roghi in piena città!Segnalato da DaniloDeMattia
01 Giugno 2009
Capodrise (CE), 25 anni di roghi tossici
Buongiorno Regione, TgR Campania
Servizio di Francesca Ghidini
30 Maggio 2009
Marano (Na) a pochi Km dal sito militare
delle Cave - Nube tossicaSegnalato da Gennarga
Video Eccezionale
Dedicato al Ministro dell'Interno
On. Roberto Maroni
Giugliano in Campania (NA)
Brucia il deposito di Eco-Balle a
TAVERNA del RE. 29 Maggio 2009
Ecco come garantiamo la sicurezza
dei cittadini.
Segnalato da bellocomeundio
30 Maggio 2009
Ponticelli quartiere est di Napoli
Ennesimo Rogo con nube tossicaSegnalato da DaniloDeMattia
25 Maggio 2009
In direzione Casoria (NA),
Ennesimo Rogo con nube tossicaSegnalato da DaniloDeMattia
25 Maggio 2009
Autostrada, rogo nel salernitano Segnalato da sx1mania
23 Maggio 2009
Napoli, quartiere di Scampia
Cappa tossica dei roghi notturniSegnalato da linochim
21 Maggio 2009
Napoli, quartiere di Ponticelli. Rogo
con nube tossica zona est della cittàSegnalato da DaniloDeMattia
Ennesimo Mega Rogo
18 Maggio 2009
Mega Rogo di Frattamaggiore (NA)
Segnalato da mariomonfrecola
18 Maggio 2009
Fuga dalla Campania,
il "Maggio dei roghi"
Frattamaggiore (NA)
16 Maggio 2009
Scampia, Roghi tossici al Campo rom
Segnalato da linochim
Ex-Ecorec: un Disastro Annunciato !!
12 Maggio 2009
Marcianise (CE) Ricomincia la
stagione degli incendi dolosi.
Ex-Ecorec, a fuoco deposito di
pneumatici Segnalato da NapoliUrbanBlog
13 Maggio 2009
La Terra dei Fuochi ancora su di Luca Abete
Video Eccezionale
09 Marzo 2009
Eco-criminali al lavoro ...
Poggiomarino (NA)
12 Maggio 2009 - Marcianise (CE)
Ricomincia la stagione degli incendi dolosi
Caserta a fuoco deposito di pneumatici Segnalato da antonioparsifal
06 Maggio 2009
Afragola - Aersol per la notte !!!
Mega rogo di pneumatici
Segnalato da linochim
26 Aprile 2009
La Napoli che non c'è
Dedicato a tutte le Istituzioni
The land on which we live, is sadly called "La Terra dei Fuochi" (the Land of Fires). Rest assured that this is not our invention, nor something that we have discovered...
But from now on, thanks to all our efforts - no-one can ever justify to himself again, or hide behind another banal statement like "it's not true"..."we didn't know"..."I never imagined". No-One!
---
Incinerators ? Even Worse !!
Fires that not only burn, but poison us. Every day, hundreds of "little" fires burn throughout the Provinces of Naples & Caserta. In particular, in the territories of Giugliano, Qualiano and Villaricca, sadly nick-named "the land of fires" in the best selling book "Gomorra".
In his book, the author and journalist, Roberto Saviano, tells us the painful truth. Actually, we can say with certainty and he was probably "too kind" in his description. From our collection of video footage which provides concrete proof, and considering the current situation, the phenomenon is much more serious than even we could have ever imagined. With our commitment, we have "simply" provided and made public all the evidence.
In these deliberate fires everything is burned. To add "fuel to the fire" it is predominantly Hazardous Waste, material that should never be burned, much less thrown in the street. Least of all, in the country, within proximity to animal and fruit , fruit farms and agriculture of every kind.
It seems that this society has lost its civility. Nonetheless, I am faithful and optimistic. That is why, along with some friends, we have given life to this space to denounce and inform.
We believe that the thousands of people that live in our territory are not truly aware. In fact, even if someone does see, they perhaps do not have any idea of how truly grave and dramatic the situation really is.
Everyone needs to know, from the "good" to the "bad". Nothing in this world could and should ever justify how much is happening, undisturbed, right in front of our own eyes. In the morning, just like the afternoon…in the evening, but even worse in the night, when the darkness hides the black smoke.
The fires are often small, hidden within small country roads that are often inaccessible.
That is why everything is contaminated.
There are those who say that all of this does not exist, that it is not true. Stop it NOW! It is useless to hide behind one finger.
Everything is INCREDIBLY TRUE.
To those who do not believe, we say:

Whoever DENIES the evidence WANTS their land, their CHILDREN, and all those that live here, HARMED.
Conspiracy of silence is complicity. Silence is consent.
Even if different entities are already aware of this phenomenon, once again, in the name of civil duty and for the umpteenth time… to all the Institutions that represent, administer and protect us, we turn to you for a CONCERNED APPEAL:

STOP THIS DESTRUCTION & SLAUGHTER!!!
We can stop drinking the water from our land. We can even stop eating the food from the land on which we live. The one thing we cannot do, is stop breathing the its air ! We are making our air "unbreathable", even without industry.
When are we going to wake up ??
Angelo Ferrillo
Sept. 2007
* "Hazardous Waste is what derives from:
agriculture/farming industry – construction industry, demolition and excavation – industrial manufacturing, craftsmanship, commercial dealers – service industry for the retrieval and disposal of refuse – health industry – obsolete machinery and motor vehicles (art. No 7 D. Lgs. 22/97 - Republic of Italy)"
---
> Map of Fires for Justice Department <
Complete list of deliberate fires and places where hazardouse waste is illegally delivered to be burned.
> Referred by You <
Send us an email:
---
IMPORTANT - USEFUL NUMBERS
All material published on this website is true, and can be verified and proven.
At any time, if the Magistrate (Justice Department) wishes to investigate, they are fully aware that they can contact the Provincial Headquarters of the Napoli & Caserta Fire Department.
In addition, our video recordings provides evidence and confirms the numerous telephone calls to Polizia (113), Carabinieri (112) and the Fire Department (115).
In fact, the print-out for telephone calls documents the date and approximate location of the caller.
We attempted to inform the Carabinieri Headquarters for Environmental Protection, N.O.E., but found it difficult to reach anyone.
Toll Free No. 800.253.608
E-mail: noenacdo@carabinieri.it
Also contacted was the office for Civil Protection, recently instituted by the Under-Secretary of the Government, delegated for the emergency waste crisis, Guido Bertolaso. Servizio Campania Pulita (Service Clean Campania) at (+39) / 081.2444.081.
We urge You to call and write !!
Numerous environmental associations such as Legambiente, WWF and Greenpeace are also fully aware of the facts.
» Corpo Forestale dello Stato
Emergenza Ambientale Numero Verde
fax: 06.4782.3877
» Agenzia Regionale per la Protezione
Ambientale della Campania (ARPAC)
- Coldiretti
- Legambiente
- WWF
- Greenpeace
ufficio.stampa.it@greenpeace.org
- Amnesty International
- AIRC
Attention to Greenpeace and WWF
In addition to fighting to save the whales and bears, let's also start fighting for real to save mankind ...
---
This website of "La Terra dei Fuochi.it" has conducted its activities for the collective interests and always did it in a free, autonomous and independent way from political parties or institutions.
We welcome and appreciate your donations.
Stay tuned and support US.
They will NEVER give up, NEITHER WILL WE!!
---
> Photos from Users <
proves of the
catastrophe
Images of the Shame
---
Help us to inform people
about what's happening

Embed our Banner on Your Web Space
Copy and paste this html code in the body: